Stewardship Campaign 2023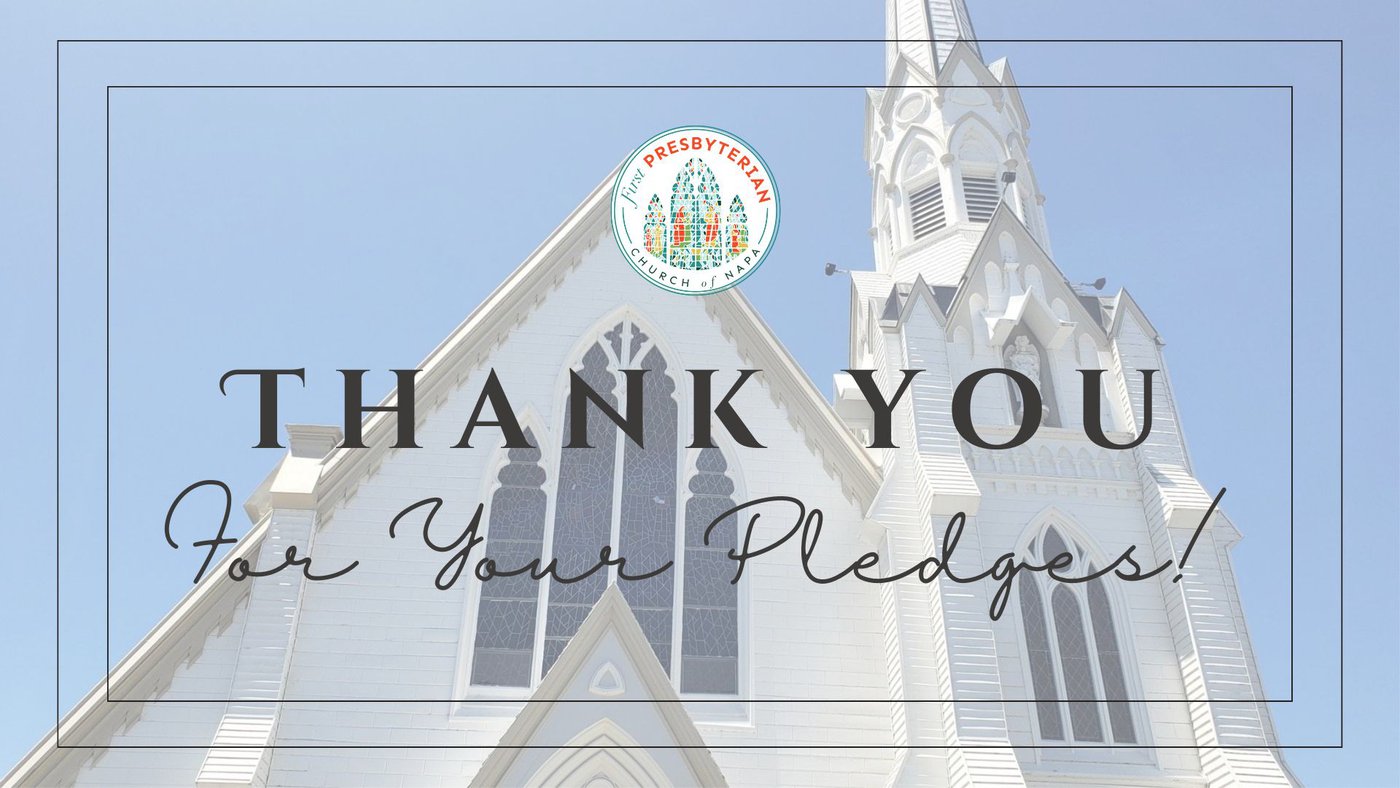 Our mission at First Presbyterian Church of Napa is to help people Connect to God and each other, Be Transformed into followers of Christ, and Serve God and one another. Members and friends of First Presbyterian Church of Napa are asked to prayerfully consider making a commitment and pledge for the coming year.
Thank you for your pledges to the 2023 Stewardship Campaign and for your commitment to support the continued operations and missions of the First Presbyterian Church of Napa in 2023. We are looking forward to continuing to Connect, Be Transformed, and Serve in the new year through your generous giving.
If you would still like to pledge, it's not too late! Please click HERE to pledge online, or click below to download a pledge form. Thank You!
To learn more about the who, what, why, and how of pledging, take a look below!
If you have any questions regarding your pledge, or if you would like to discuss the various ways to fulfill your pledge in 2023, please contact Carmen Garcia, Finance Manager, at 707-224-8693, or finance@fpcnapa.org.
Who is asked to pledge?
We encourage members of our church to renew their pledge every year. However, many people who have not officially joined our church make a pledge as well. They recognize that our church needs the financial support of everyone who participates in the life of the church. Every pledge counts; every pledge matters!
What is a pledge?
A pledge is an estimate of what you intend to give to the church in the coming year. It is not like paying taxes, a mortgage or membership dues. Your pledge is a statement of intent, it is not a contract. How much you pledge is a personal decision made with your situation and means taken into consideration.
But more than that, it is a spiritual discipline that reflects God's generosity of love shown to us through Jesus Christ. Placing the church in your financial plans for the coming year demonstrates that your faith is a priority in your life.
Why should I pledge?
Making a pledge is a very tangible way of saying that you intend to financially support the ministry and mission of our church. It enables the church leadership to more accurately forecast church revenues and plan operating expenses and mission giving appropriately. Your annual pledge not only ensures that the lights stay on, but also that our staff and volunteers may continue to love and serve our congregation and community. It allows us to dream about new ways to Connect, Be Transformed, and Serve in the year ahead. See below what your pledge makes possible!
How do I make a pledge for 2023?
Easy! If you currently pledge, you'll receive a pledge card in the mail with a self-addressed stamped envelope to return your card. If you have not received your pledge card in the mail, click on the button below and download the 2023 Stewardship Form, or pledge online using the link below. If you need assistance or have any questions, we'd be happy to help!
Contact Carmen Garcia, Finance Manager, at 707-224-8693 or email finance@fpcnapa.org.

Your pledge allows us to Connect to God and each other through:
In person and online worship services
Family fun events
Friday prayer group meetings
Grieving and loss support group
Prayer support for families
Easter, Halloween, and Christmas outreach events
Presbyterian Day School Sundays with our preschool families
Annual Church Picnic
ChOW, Church On Wednesdays meals and classes
New Member classes
Community volunteer opportunities

Through the gifts of the Holy Spirit, your pledge results in others becoming transformed into followers of Christ through:
Worship in our historic Sanctuary in person and through online gatherings
Baptisms, weddings, and Celebration of Life services
Weekly Bible story and song time with our Presbyterian Day School children
Kids' Church and Youth Fellowship on Sunday mornings
Vacation Bible School
Men's weekly Bible study
Presbyterian Women Bible study
Ministry and support for adults with developmental disabilities (Friendship Class)

Your faithful giving allows us to serve God and one another through:
Backpacks filled with school supplies for families in transitional housing
Winter coat drive
Packaging >10,000 meals with Rise Against Hunger
Build homes in Mexico with Youth With a Mission and Homes of Hope
Provide gift cards throughout the year for families in need
Fill gift boxes through Operation Christmas Child
Support missionaries around the world
Provide meeting spaces for AA groups, local performing arts camps for kids, and music and voice lessons
I've made my pledge. What's next? How do I fulfill my pledge?
Once the new year begins, you may fulfill your pledge in a number of ways--choose which is most convenient for you! If you require offering envelopes, please let us know and we will be happy to provide them for you.
Give on Sunday
Set up a one-time or recurring donation on our GIVE page
Mail your check to:
First Presbyterian Church of Napa
1333 Third Street
Napa, CA 94559
Through a donation of stocks, IRA rollover, charitable trust, or donor advised funds
Contact Carmen Garcia, Finance Manager, if you have any questions!
Email: finance@fpcnapa.org
Phone: 707-224-8693