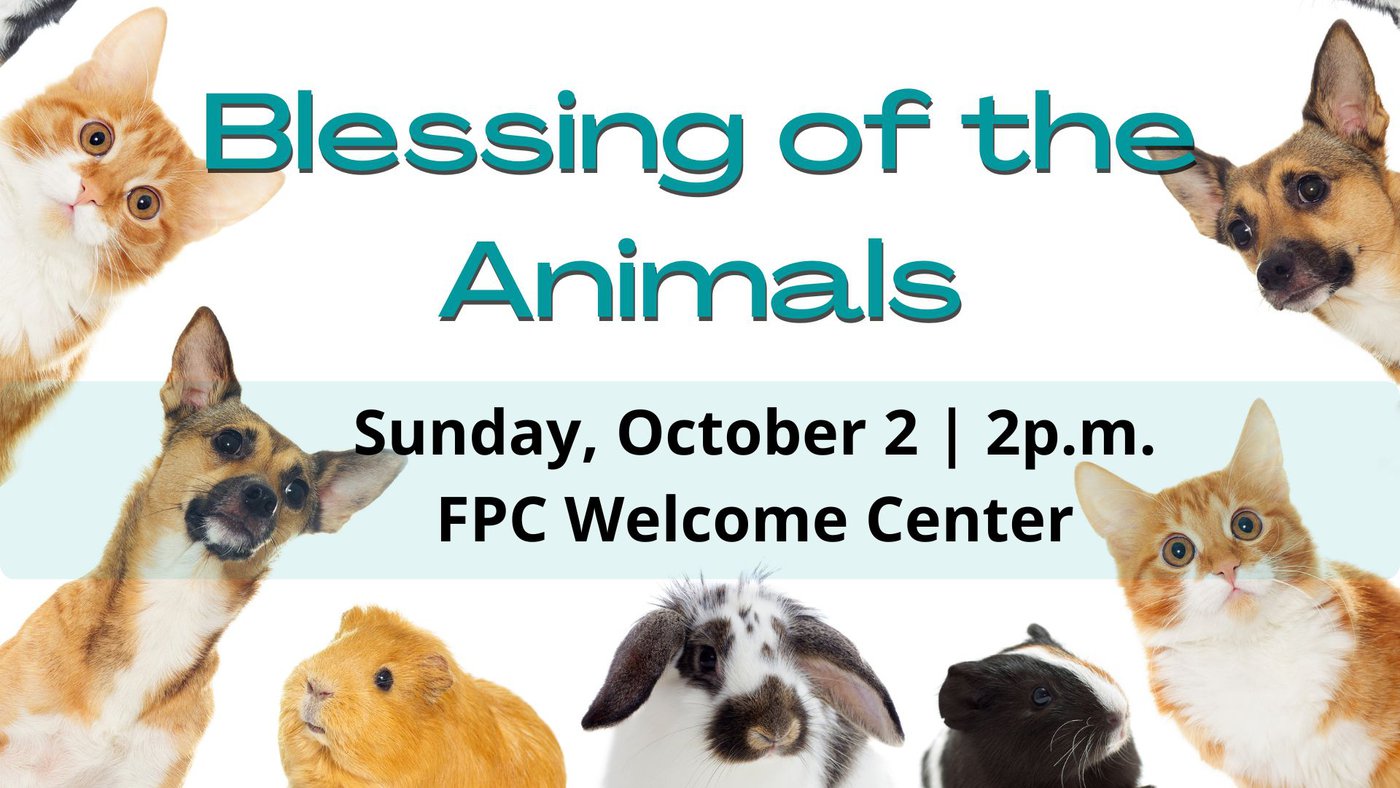 Blessing of the Animals
Sunday, October 2 | 2 p.m.
FPC Welcome Center
All who love animals are invited to bring their beloved pets to the church for "A Blessing of the Animals". Animals are like family, and it will be wonderful to bless them and celebrate them.
Sunday, October 2 at 2 p.m., bring your animals to the Welcome Center for a blessing and also lemonade, cookies and pet treats. There will be an individual pet blessing as you walk in, as well as a group animal blessing at 2:15 p.m. with all present pets. (Please feel free to bring pictures of your animals, if it would be too difficult to transport them.)
St. Francis of Assisi was born in the 12th century and is remembered for his love for animals and nature. Our Catholic brothers and sisters have made him the patron saint of animals and the environment. Often in both Protestant and Catholic churches, a Blessing of the Animals is done on St. Francis Feast Day which is celebrated the first week of October.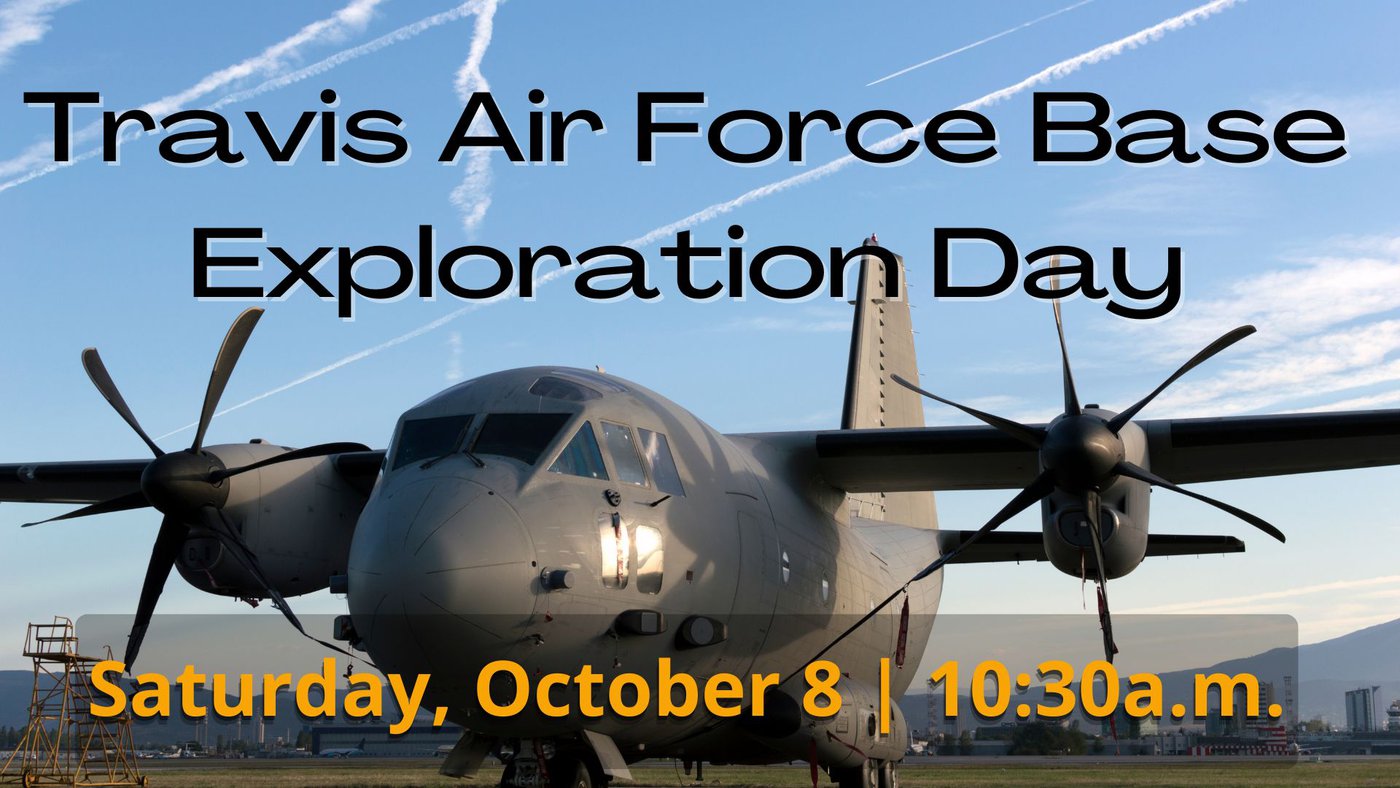 Travis Air Force Base Exploration Day
Saturday, October 8 | 10:30 a.m.
Travis AFB Heritage Center/ Aviation Museum 461 Burgan Blvd Travis AFB
First Pres Youth, children and their families, as well as interested congregation members and friends are invited to join for a fun day at Travis Air Force Base, sponsored by Pastor Joanne Martindale.
Come and explore over 65 interactive and static exhibits, including 6 aircraft and restored 1942 fire truck. Also see 22 aircraft on display on the ground including the B-29 "Miss America '62" and the C-141 "Golden Bear." We will then enjoy lunch followed by an Obstacle Course and Base tour. After, all are invited to Pastor Joanne's home for Backyard Ice Cream Sundaes!
When: Saturday October 8 | 11a.m.
If you have a Common Access Card (CAC) you can meet the group on base (at the planes, by the Travis AFB Heritage Center/ Aviation Museum) at 11:00 a.m.
10:30a.m.
If you do NOT have a military (CAC) card, please meet in the Subway Restaurant Parking lot (628 Parker Rd Fairfield – right off Air Base Parkway next to the entrance of the base) at 10:30 a.m. and we will carpool into the base in separate cars. You will need to get into a car with a person who has a CAC card (you will not be allowed to drive your own car onto the base).
Volunteer Drivers with CAC card needed
Do you have a Military (CAC) card, and are willing to carpool with others interested in attending this event? Please call the church office and let us know! 707-224-8693.
RSVP for the EVENT:
Please call (707-224-8693) or email Fransine Villaseñor, Office Manager, to RSVP for the Travis AFB Exploration Day: officemanager@fpcnapa.org. For more details on the tour, please contact Pastor Joanne at pastorjoanne@fpcnapa.org. Let us know the first and last name of all who will be joining us. Thank you! Please RSVP by Monday, October 3 at noon.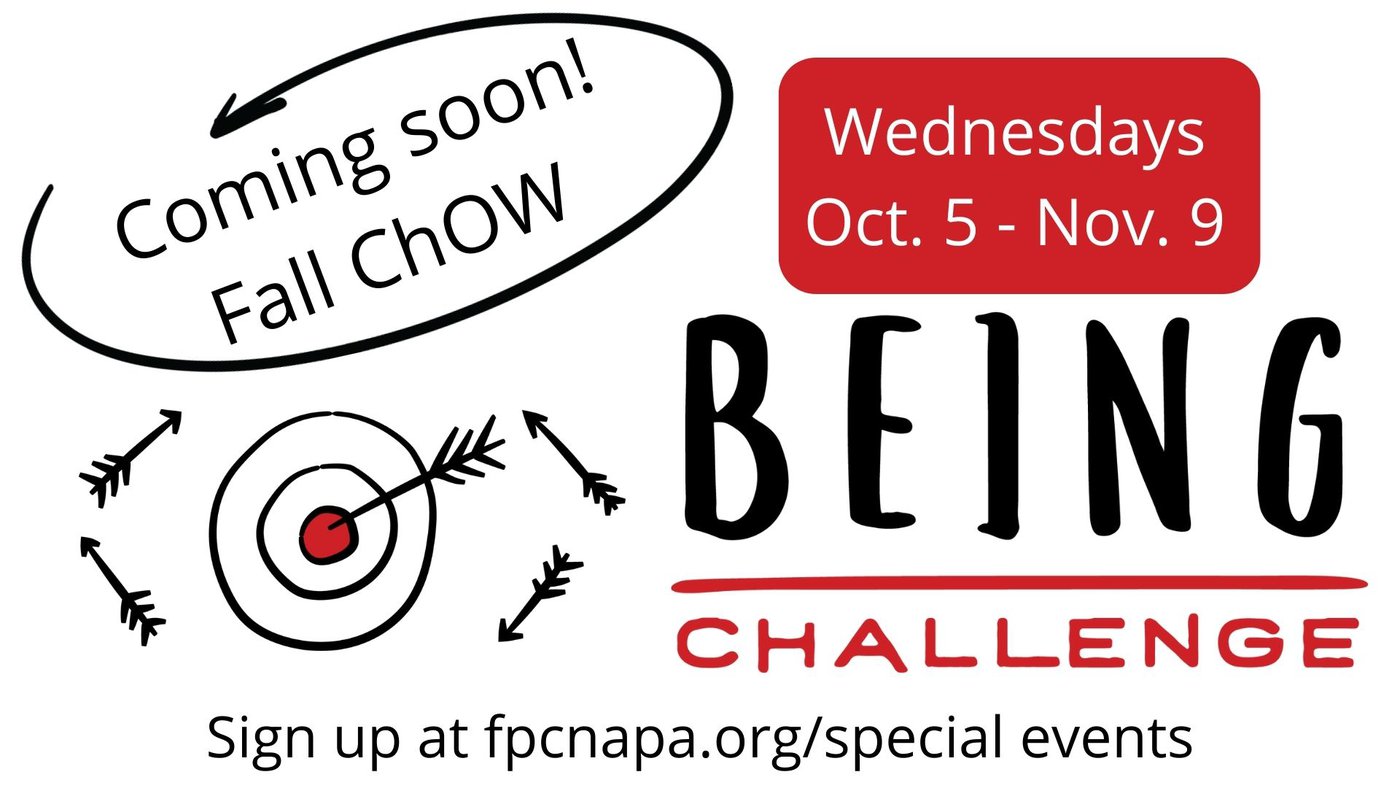 Fall ChOW
Begins Wednesday, October 5, 2022
6 p.m. dinner | 7 p.m. discussion
Join us for the 2022 Fall Series of ChOW, Church on Wednesdays, at First Pres Napa. This series will begin Wednesday, October 5, 2022 through Wednesday, November 9, 2022. dinner is served at 6:00 p.m. and classes begin at 7:00 p.m.
The whole family is invited to join us on the six-week journey to discover the keystone habits of Jesus, that will help us to become better followers of Christ.
Once dinner is finished, we will join together to watch a brief video, then break out into groups for discussion. Below are the 5 habits of Jesus we will work toward to make a part of our lives in the 6-week journey together.
*COMMIT TO COMMUNITY
*STUDY SCRIPTURE
*PRIORITIZE PRAYER
*SEEK SOLITUDE
*CHOOSE CHURCH
Donation for dinner is $5 per person or up to $20 for the family. Childcare will be provided for kids 4yo-5th grade. Youth (MS and HS) are encouraged to participate in any of the inter-generational classes or activities!
For any questions, please email Paul Gray, paulggray23@yahoo.com, Connection Committee, Chair or the FPC Office: officemanager@fpcnapa.org.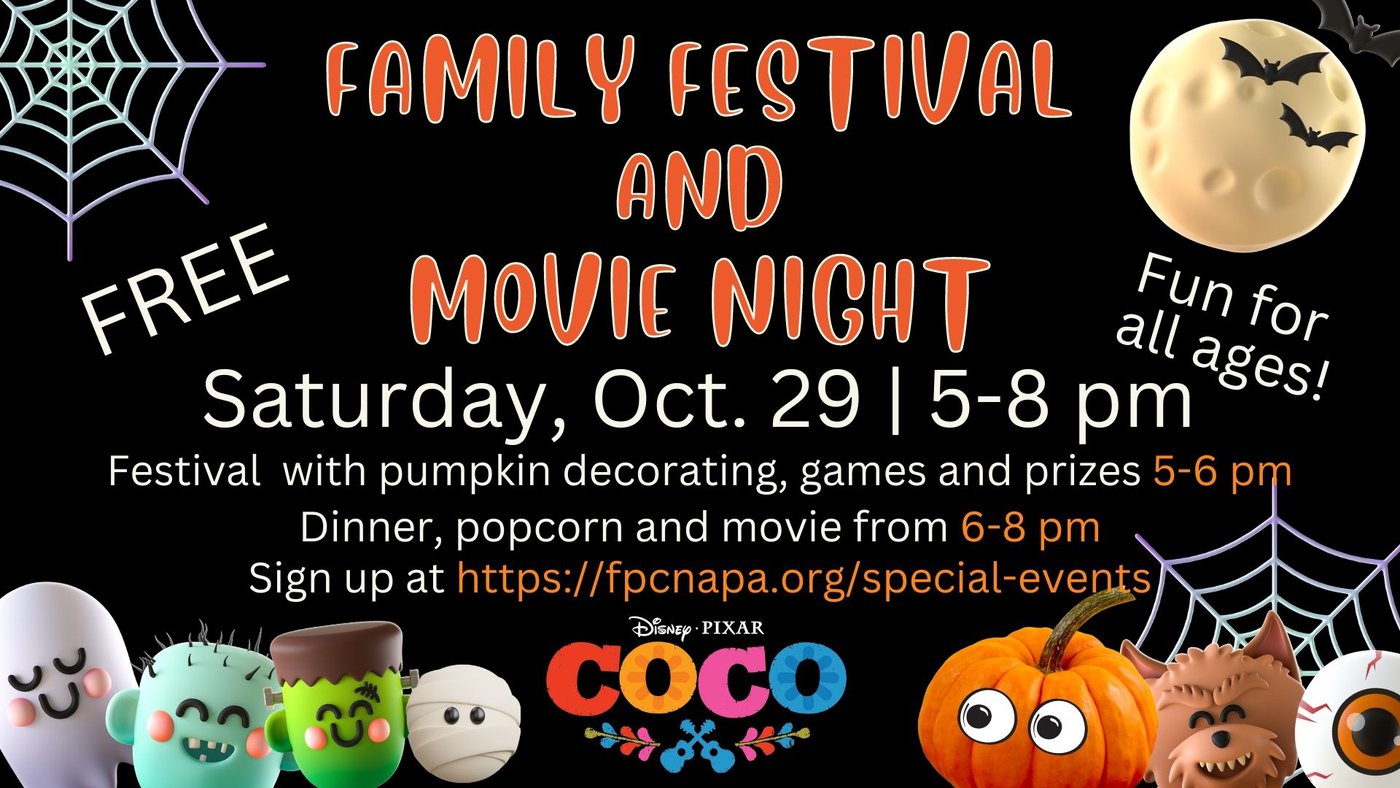 Family Fest and Movie Night
Saturday, October 29 | 5-8 p.m.
We're so excited to invite you to an other spooktacular event at FPC Napa!
Join us on Saturday, October 29 from 5-6 p.m. for photo booth, pumpkin decorating, games and prizes! Then stay for dinner, popcorn and a movie from 6-8 p.m..
Don't forget to sign up by clicking the button below.
Email children@fpcnapa.org for more questions.